meet the dentists
Dr. Whitney and her associate Dr. Adams share the work week.
Dr. Whitney is in the office Monday, Wednesday, and Friday.
Dr. Adams works on Tuesday and Thursday.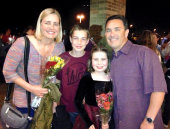 Dr. Whitney grew up in Sacramento - about 5 minutes away from her practice!
She has a wonderfully supportive family. Her husband, Dave, is a research scientist. They are blessed with 2 boys, Alex and Tyler.
Jill was encouraged to pursue a career in dentistry when her uncle (also a general dentist in Sacramento) took an interest in her artistic ability. After spending some time in his office, she found that she loved the way new, beautiful smiles can transform lives.
Dr. Whitney graduated from University of the Pacific's School of Dentistry in 1994. After 9 years in associateships, she purchased her own practice in 2003.
She's pleased to have such a talented, devoted staff.
dentistry
for the entire family
Dr. Adams grew up in Orange County in Southern California. While getting her Biology degree from UC Irvine, she volunteered at the county dental clinic. This is when her interest in dentistry began.
After graduating from UC Irvine, she moved to Northern California to attend the UC San Francisco Dental School. She lived and worked in San Francisco for 3 years before moving to Sacramento. She has been with this practice since February 2001.
While at UCSF, she met her husband, Greg - a Carmichael native. Dr. Greg Adams is an orthodontist in Laguna. The Adams have 2 children, Ethan and Maya. They love to swim, snow ski and work in their backyard together.
Dr. Adams feels very fortunate to work in such a great office with a caring staff and wonderful patients!